Perspektywy Education Foundation (non profit , est. 1998) supports girls and women in IT, TECH, SCIENCE, INNOVATION for last 10 years. In all Perspektywy's programs  so far 200 000 women participated.
End 2017 Perspektywy won the European Digital Skills Award (by European Commission) for the best action for women in computer science in Europe for  IT for SHE.
It was big encouragement to implement idea of "Perspektywy Women in Tech Summit 2018"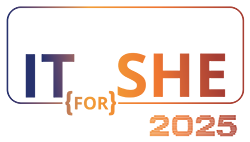 About IT for SHE
The IT for SHE project in Poland encourages and trains women for digital-age careers – helping them find work in a traditionally male-dominated sector.
IT for SHE programme focuses on helping women to increase their technical abilities in areas such as programming and data management. The programme also helps them develop their 'soft skills' – such as by building their self-confidence and training them to be effective communicators. The programme also involves female tech role models to encourage young women to take up careers in the digital sector.
Program aim is to increase the impact of women, create a new generation of female leaders and have more representative contribution to shaping IT and therefore the world.
Ingredients for success
Four elements make up IT for SHE. The annual Women in Tech Camp holds a series of programming, mentoring and career-planning workshops over five days for 120 most talented female IT students. IT for SHE's Kids in IT initiative recruits female IT student volunteers to teach coding and technology to children in small towns each year. The initiative reached 1 000 children in 2017. And a dedicated mentoring programme brings together young women and 40 specialists from leading technology companies for coaching sessions to help them advance in high-tech careers.
The fourth, most recent element is the Perspektywy Women in Tech Summit. This is one of Europe's biggest gathering of women in IT and tech, with the first to be held end of November 2018 in Warsaw.
IT for SHE was founded by Perspektywy in 2016 together with high tech industry partners: Intel, Google, Ericsson, Citi, Goldman Sachs, P&G, Samsung
More information
IT for SHE:  www.itforshe.pl/en